Contraction Expansion, Narrow Range, Breakout
1. PURPOSE
Prices move in a cycle of contraction and expansion. If we can identify a contraction then we may get a tradable move. This query helps you to do that.
2. INPUTS
We have given an option to scan the stocks where prices have made a NR7 pattern. For this purpose first you need to open a chart and then insert this query from the MENU SCRIPT.
At the lower end of SCRIPT List Window you will find a tab named SCAN. Just click on that.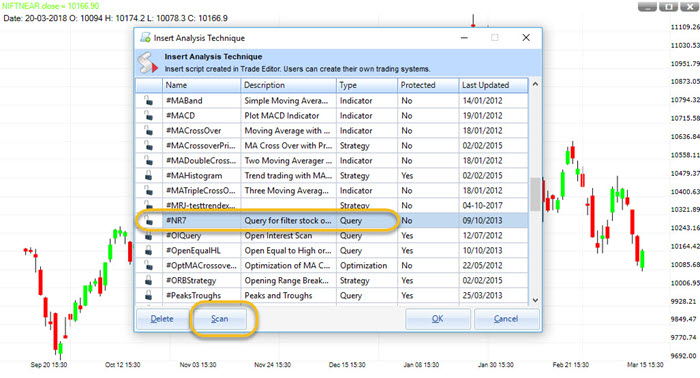 Once you click the scan tab a new window will appear in front of you. You need to fill the details here.
1. Select Folder Type: Under this you need to choose the timeframe. For example we have chosen the EOD timeframe.
2. Select Folder to scan: Choose the folder from the list where you want to scan the NR7. For example we have chosen the F&O folder.
3. Select compression: We need to select the data compression here. For example we have selected none. For EOD data you can choose from weekly or monthly timeframe.
4. Click on SCAN tab shown in the bottom of the window.

3. HOW TO INTERPRET
NR7 is a term given to a day that has a range smallest of last 7 trading days including that day. Market goes through regular contraction and expansion cycle. Expanding range is followed by Contraction and vice-versa. So if we can identify the narrow range days, then it give us a step ahead to benefit from coming expansion.
NR7 represents contraction and warn us that a range expansion may come. However the direction is unknown but we can assume that the large expansion may come in the direction of the trend.
4. OUTPUT
This query gives us a list of instrument from the folder we have selected to scan.
At the top of the window we can see that Scan Query found 12 stocks where a pattern of NR7 has been made.
Below are the name of stocks where prices have made NR7 pattern with their last closing price and change in closing price compare to previous day.